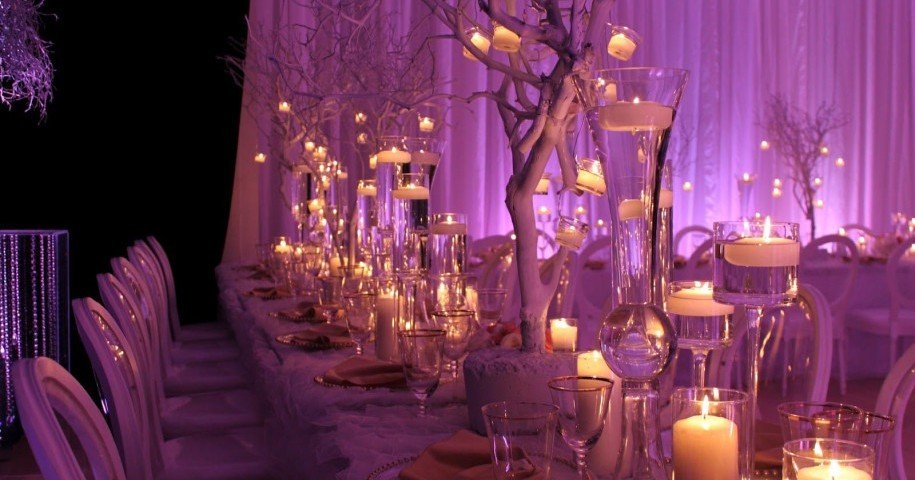 Candle decorations will add a touch of elegance to any wedding venue. Whether your wedding is a formal affair, beach theme or country inspired, candle decorations can be embellished to match any wedding theme or color scheme.
Walk down a candlelit aisle that will not only add a glow to the bride, but the lighting from the candles will enhance your wedding photos. Line each side of the aisle with a lace or specialty wedding runner. Place glass votives and white candles down the center of each runner. Light the votives just before the bride walks down the aisle
Decorate your wedding with candelabra candle centerpieces and make it more 'dramatic' but in a good way. Paint the candelabras white, ivory or black. Wrap the stem of each candelabra with satin ribbon, or for a more dramatic look, wrap the candelabra stem with a small feather boa. Glue flowers, a string of beads or feathers around each wrapped candelabra stem. Add that special touch of elegance by hanging a teardrop bead from each candle cup on the candelabra. Display the candelabra centerpieces around the altar and reception area.
Mason jar candle centerpieces can be made to adapt to most wedding themes. Fill the mason jars with sand, then wrap the outside with jute and glue seashells to the string for a beach theme. Glue lace and a string of beads around the jar for a Victorian look, or wrap a floral wreath around each jar for a formal affair. If you want to use a jar centerpiece in a truly unique way, have your bridesmaids carry them down the aisle instead of the traditional bouquet. Mason jar candle centerpieces can be used to decorate both the wedding and reception areas.
Make monogrammed glass votives for your wedding favors. Use vinyl stick-on letters to monogram each votive. Place a candle matching your wedding colors in each votive. Wrap each votive wedding favor in decorative tissue paper tied with a satin ribbon at the top. Place the wrapped votives in a small basket, then put one in front of each table setting. These wedding favors will give guests a gift that will carry on the romance of the wedding to their home.
Wrap three various sized candles together with ribbon, lace or fabric. Glue flowers, faux wedding rings, or other embellishments on the ribbon that joined the three candles together. Place these candles on a charger, tray or flat dish for added beauty. These candle centerpieces will beautifully decorate a wedding or reception area.
Make your wedding memorable by taking one of these candle decorating ideas and incorporate your taste into each piece. Another way to make your wedding memorable with candles is to combine different styles but one thing is always the most important-Listen to your inner voice and you will make no mistake. It is your wedding after all.