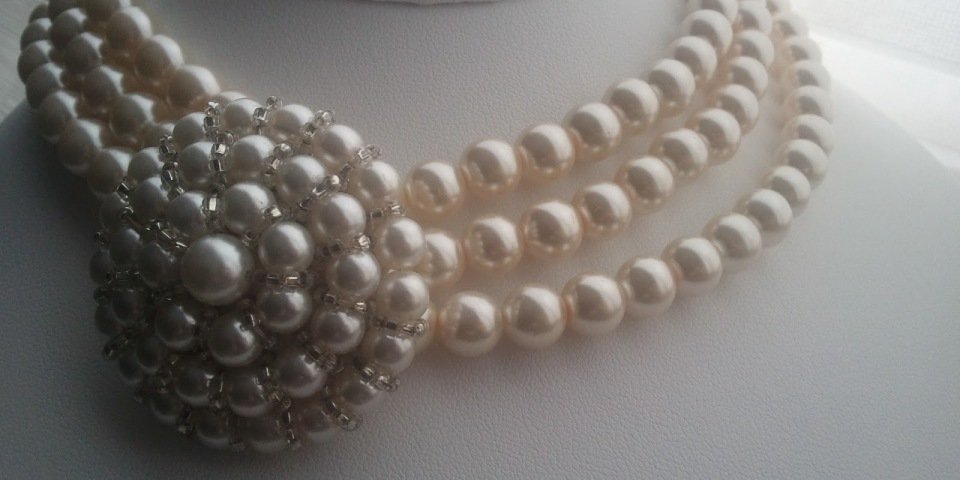 For years, brides have tried to get their bridesmaids to squeeze into similar dresses, shoes, and hairstyles, all with the goal of having everyone look as similar as possible to complement the bride. Fortunately for women of all sizes, ages, and shapes, the "Stepford Wife" look is out now, and it's fine to have each bridesmaid show their own personality through their jewelry and accessories!
It can be hard to let the bridesmaids choose their own jewelry while still making sure it all looks coordinated, so here are five steps to help you make sure your wedding is all you've dreamed of while your bridesmaids are happy.
Choose a jewelry theme
Consider your wedding theme and the colors you've already decided on when you think about a jewelry theme. For example, if the color palette of the wedding strongly favors silvers over gold, ask that all jewelry be silver. You might want to ask all your bridesmaids to avoid dangly jewelry, or you might want everyone wearing fun hoop earrings. Think about the best jewelry style and theme for bridesmaids to choose from, rather than picking one specific type of jewelry for everyone to wear.
Think about their personalities (and allergies!)
You might want to enlist the help of your bridesmaids as you figure out what type of jewelry they like. If you're buying for them, you don't want to give them jewelry they'll never wear again after the wedding, or a color that doesn't look good on them. Some women love wearing silver, others like gold, and still others prefer brassy or unusual colors. Also, some bridesmaids will be allergic to specific metals, so if one can only wear 24k gold, save her embarrassment and don't let her be the odd one out.
Let bridesmaids choose from a few options
One way to resolve the problems that might arise between the first step (when you think about your ideal wedding theme) and the second (when you think about what your bridesmaids would actually wear) is to let bridesmaids choose. You could have everyone wear either a necklace and earrings or a necklace and a bracelet, for example. Another way to solve the problem of mismatching theme and personalities is to choose a few different pieces of jewelry and let them pick which one they want.
Order artisan jewelry for customization
You could work together with your bridesmaids to choose a general style of jewelry, then create customized options by working with an independent crafter or artisan to get maximum customization. Many independent stores are happy to create a matching set of jewelry – for instance, necklaces in one matching style with different stones or types of metals. The downside is that this can be more expensive, depending on where you buy the jewelry.
Personalize everyone's jewelry
Ideally, all your bridesmaids will be in the same place and you can go jewelry shopping together to figure out what styles everyone likes. At the very least, you could get everyone to give you their favorite metal and stone, then find a line of store-bought jewelry that comes in a variety of styles and metals. Engrave each bridesmaid's name and a special message to them on each woman's jewelry and they're sure to be happy with the infusion of personality into what could be generic jewelry.
Rather than making all your bridesmaids wear identical outfits, let each of the beautiful women in your life bring their own personality, likes and dislikes, and charm to the wedding. Follow these steps and set a general theme, or offer them a few different choices of jewelry to mix and match so everyone looks coordinated but not creepily identical. Your wedding can look picture-perfect with a little input from your bridesmaids!