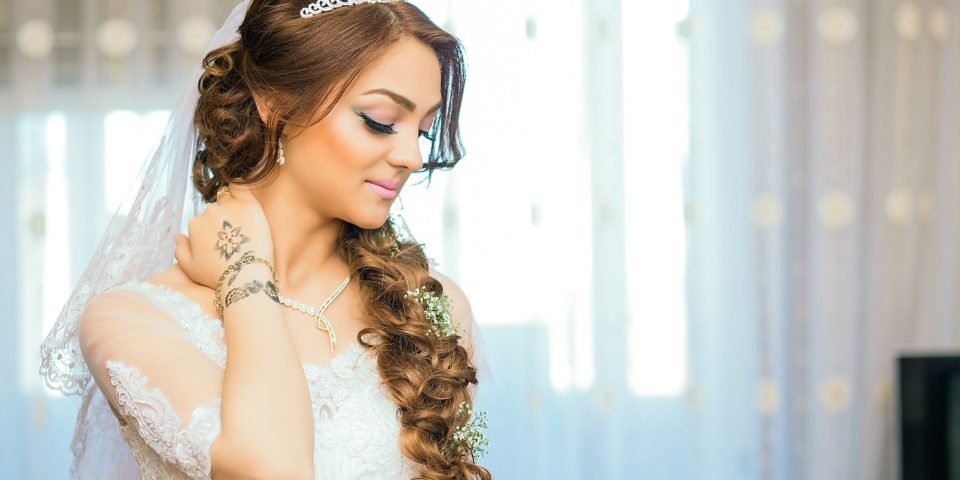 The choice of the wedding dress is one of the most exciting moments of the preparatory phase of marriage, but some girls are living this experience with anxiety, because they all desire the perfect dress and doubts and indecision can sometimes trigger states of stress.
The following tips can, however, help you feel more confident in your choices:
1) Search:
First you must think about the clothes that you are accustomed to wearing and with whom you feel most comfortable with. All we know exactly what style suits us more.
It 'also important to know which body parts you want to enhance and show, for example, the neck, shoulders and décolleté or otherwise. In this way you will know to choose a dress model that discovers and appreciates these parts, covering others who prefer not to show too much. In other words you have to decide where you want to drop the eye of our viewers during the ceremony!
Take a look at preliminary fashion magazines for the bride and to the various sites is useful to get an idea of ​​what the market offers.
If there is a fashion designer or a particular line of your choice, find out what are the specialized retailers of that brand.
In each store a certain level you will still find a selection of the best collections but it is possible that the Atelier nearest to your home does not have the pattern or signature that you are looking for. Internet will be very useful to find the right studio that can offer you what you want.
2) Make an appointment:
Many Atelier, customers receive their appointment, especially at weekends. This is to ensure the best possible service and support accurate. If you go without an appointment you may not receive the necessary attention, but probably only because the store staff must devote themselves first to brides by appointment. To avoid wasting time is therefore preferable to call the shop and make an appointment.
3) Do not go alone:
And 'much better off going to choose the dress with someone you trust, someone who knows you well and on whose advice you could always count because you are certain that you will speak honestly and in your best interest. Someone who then holds you in a particular way. The mother is usually the ideal person and maybe a 'friend or why not an image consultant with that objective eye, professional and detached, can really guide you in your final choice. However, never forget that it is your day and you'll have to wear the dress, so you do not have to please anyone but yourself. Carefully consider all suggestions but the final decision is always the bride.
4) Establish a budget:
Of course, this tip applies for each good or service that you purchase, but in particular for the dress.
And 'in fact need to know exactly how much you are willing to spend in order to make a preliminary selection to try on the clothes, it is useless to want to try collections from the thousand and one nights if so then you do not want or can not exceed a certain spending limit.
6) The choice well in advance:
Visiting the different ateliers, try and try the clothes, finding the right one for you and adjust the details or size takes time.
The ideal time to choose and buy the dress ranges from 9 to 6 months before the wedding. Of course, check with friends and relatives who got married recently, ask them where they are served and how they are found, to learn from the experiences of others can help you avoid falling into the same errors.
7) Be open-minded:
Try to have a clear idea about what you're looking for, but try to wear clothing styles imaginable.
Most brides often buy a type of dress that has nothing to do with what dreamed and imagined, because one thing is to imagine yourself with something on his back and another thing to behold.
So have fun playing with your image, try models also completely different in cut, color and style and choose the one that looks best. Maybe the dress that you decide to buy will not be just what your dream, but it certainly will be the one that will make you look great wearing it and that will make you feel at ease.
Sometimes the clothes need to be changed, but before doing so inquire about the costs of such changes and let's stick to a strict minimum, as a dress or you like or do not like, it makes no sense to buy a model with the intention to radically change it. And once you've decided Especially, do not come back, do not continue to look for other dresses and browse through magazines, be convinced of your choice and do not put it into question.
8) The Style of the day:
In choosing the dress is also important to take into account the tone and style that you want to give the entire course of the day.
When buying the dress is good to have in mind the style of the location, the colors you want to use for fittings, equipment, flowers and the leitmotiv that you intend to pursue (for example if yours is a themed wedding or classic or romantic or alternative etc …).
Sometimes, however, it is the wedding dress that makes the rules for the rest. Getting married in a castle, a villa or celebrate at the restaurant, in summer or winter or even abroad, all these are variables to be taken into account during the test and the choice of dress.
9) Try:
Once the dress has been ordered and will need to go back to try it especially if it is lost or bought a few kilograms. This time you will already have the shoes you will wear for the wedding in order to allow the seamstress to adjust perfectly the length of the dress.
10) Have fun!
The test and the choice of the dress should be one of the most beautiful and entertaining stage of planning the wedding. Try dream dresses and feel like princesses, this is the right spirit, so do not be caught by anxiety and stress. The dress of your dreams may be the first you will wear or you may need to visit 10 different studios before you find something that suits you, but take it as a game, sooner or later you'll find it! Be patient, you will succeed and the result of your choice will be exciting!