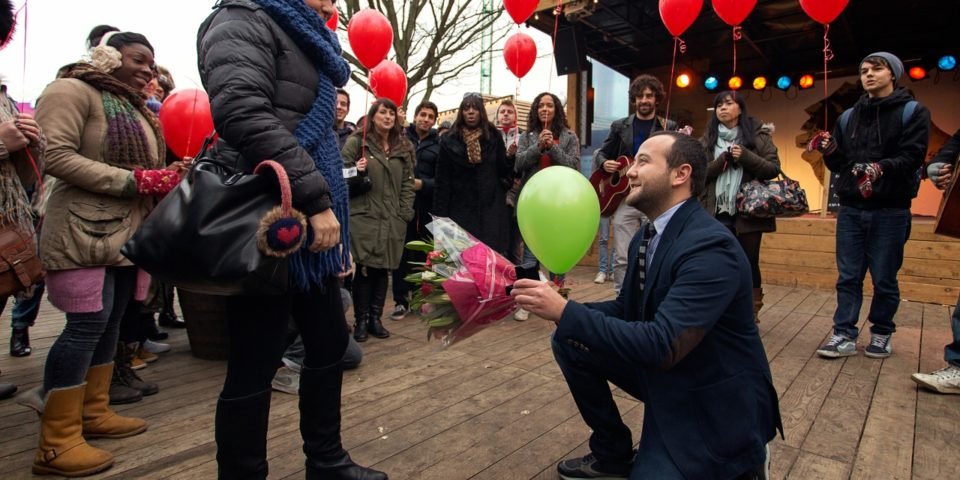 It's becoming more and more desired to have a crazy, extravagant wedding proposal. No longer are couples content with normal proposal stories—they want a proposal with flash mobs and singing and dancing—a unique tale that they can share with friends and family for years to come. They also want a proposal that perfectly reflects their relationship.
Unique Proposals
It can be really tricky to come up with a unique idea for a proposal, especially when you're busy working, dating, or otherwiseliving your life. Extravagant proposals can take a lot of time to plan, so if you know that you don't want something normal and boring, you may want to hire professional help.
Work with The Proposers to ensure that you make the proposal of a lifetime, one that's true to your personality and relationship. There are no proposals too big or too small. You can have a public proposal with a huge flash mob in the middle of town, or a quieter proposal, such as one with a treasure hunt.
It Takes Time
Planning your dream proposal takes a lot of time, which is why it's smart to hire a qualified and expert company to help you. One of the major perks of working with a company is that they'll be able to offer you a number of ideas to choose from. Once they have met with you and gotten to know you and your significant other, it's a lot easier for them to come up with some ideas that you will love. Then it's up to you—you can either choose one of their ideas and end the relationship with the planning company, or hire them to help make your plan a reality.
Building on Your Idea
Chances are good that you may have an idea about how you want to propose, but you don't know how to plan it and make it sure it happens just as you want it to. This shouldn't stop you from being a part of the planning process—you can share your dream with a professional and work with them to plan the proposal, even if you're working on a budget. Staying involved with your proposal will ensure that your plan will be perfect for your significant other. Your significant other will also love knowing you were so involved in the planning process.
Popular Proposals
Proposal companies that have been in business for a while understand what makes a proposal successful. They often offer a group of pre-planned popular proposals that you can choose from. These are perfect for the person who isn't picky about details, but only wants to make sure that the proposal is fun, memorable, and will result in a "yes."
You're going to propose to your significant other just one time. Make sure that time is memorable and fun. Work with a proposal company to make your special day one to remember!